Following the viral footage of the couple on social media, astute internet users have formulated an intriguing theory about Chioma, the wife of Nigerian singer Davido.
Recently, a video of the couple showing off their new tattoos, which feature each other's names on their ring fingers, went viral online and received a ton of positive feedback from social media users.
While the tattoo artist was working on Chioma's finger, some social media users also saw that she was occupied with a monthly cycle monitoring app.
READ ALSO: Davido updates his marital status on Wikipedia after paying Chioma's brideprice
Many people have begun writing congrats after noticing the app on Chioma's iPhone and wondering if the couple is expecting another kid.
It's believable that Chioma has gotten pregnant and planted a seed. We have all seen firsthand how tragically and shockingly the couple recently lost their only child just a few months ago.
God, please provide the couple a second cute and lovely kid.
Also Read: Davido replies Bongo Ideas for blaming him on his son's death
Take a look at the pictures below to know more…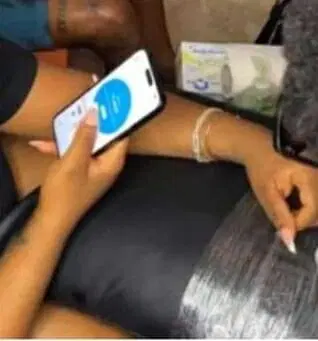 For more viral and trending news, join our Telegram channel via this link…