Its been days since TikTok star Asantewaa was hit by a wild allegation by Eyram Gh for aborting a baby for popular Ghanaian dancer Dancegod Lloyd.
According to the earlier allegation, Asantewaa told Dancegod Lloyd that her husband was weak in bed and as such needed someone good to service her.
But Eyram while sharing the screenshot of the message mentioned that it was sent to her by an anonymous person and had no hand in it.
Also Read: Asantewaa aborted a baby for Dancegod – Eyram claims
Well, Asantewaa has finally gotten time to respond to this allegation after a fan jumped into her DM to question her about it.
According to her, she has nothing doing with the dancer apart from the fact that they are friends.
She also added that claims by the Eyram that she has some explicit photos of her in her possession is also false because she has never in her life taken or recorded such videos.
Also Read: Asantewaa flies to Dubai to do dirty stuffs – Anonymous sender reveals
See the video below…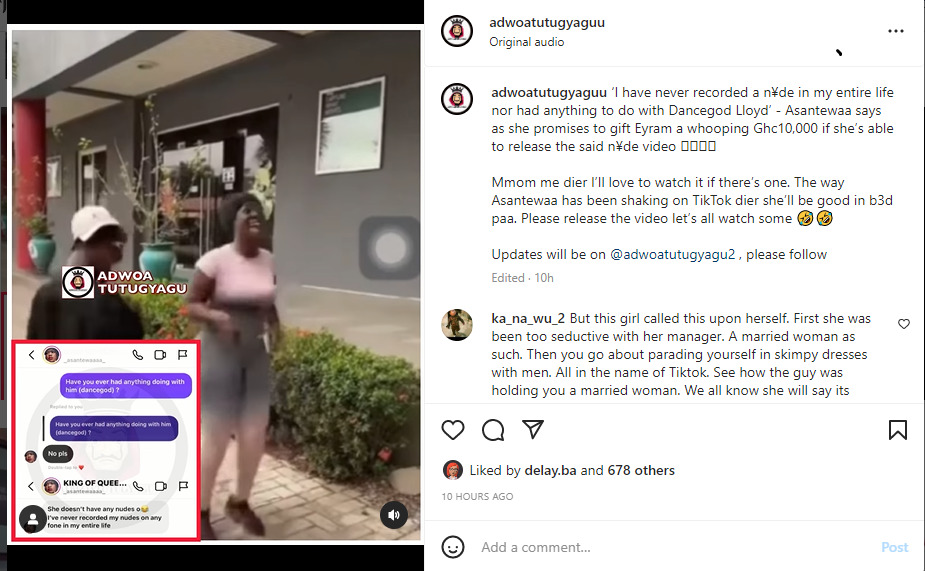 Join us on Telegram for more updates via this link…